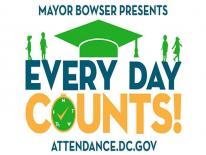 Every Day Counts! is a citywide effort initiated by Mayor Bowser to ensure every student attends school every day. Going to school every day is critical to our students realizing their hopes and dreams. Every Day Counts! will bring together the entire community to support students and families through a public awareness campaign, a Taskforce coordinating public agencies and stakeholders, and investments in data-driven strategies to increase attendance. Check out attendance.dc.gov to find citywide attendance policies, resources and activities to address attendance challenges, and help spread the message that every day counts!
The Office of Victim Services and Justice Grants (OVSJG) helps make every day count by coordinating Show Up, Stand Out (SUSO), a community based truancy reduction which is a program that helps parents get their children to school every day. The program works with families to identify barriers to school attendance by providing support services that address the family needs to make sure their kids attend school regularly - a critical first step for a good education and success later in life. The program also works directly with middle school youth to reengage students by providing them with the opportunity to receive additional resources that will positively impact their attitude towards school.
OVSJG is also coordinating a high school truancy reduction pilot program to create a positive change in knowledge, attitudes, and behavior related to attendance and a reduction in truancy rates among students participating in the program.