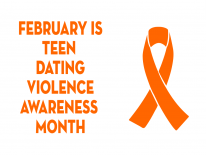 During Teen Violence Awareness Month, advocates join efforts to raise awareness about dating violence, highlight promising community-based prevention practices, and encourage communities to get involved. This year's theme "Know Your Worth" places emphasis on learning about healthy relationships and self-empowerment!
It is especially important during this pandemic to be aware of teen dating and violence. COVID-19 has increased the levels of violence experienced by teens and their families which can compound risks. An increase on the reliance on technology has increased vulnerability to cyber abuse. There has also been a negative impact on the ability of youth serving organizations to deliver programs designed to prevent violence due to social distancing. Additionally, school-based violence intervention programs have likely decreased as most schools have adopted virtual learning.
The Office of Victim Services and Justice Grants provides funding and support for organizations that work towards reducing teen dating violence. In DC, if you or someone you know is a victim of teen dating violence, please contact the DC Victim Hotline at 1-844-4HELPDC (844-443-5732) or by chat at dcvictim.org to access support and services.