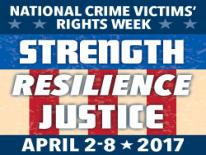 Every year in April, The Office for Victims of Crimes (OVC) in The United States Department of Justice (DOJ) helps lead communities throughout the country in their annual observances of National Crime Victims' Rights Week (NCVRW), which will be observed in 2017 on April 2-8.
This year's theme—Strength. Resilience. Justice.—reflects a vision for the future in which all victims are strengthened by the response they receive, organizations are resilient in response to challenges, and communities are able to seek collective justice and healing.

During NCVRW, communities across the country come together to raise awareness of victims' rights and services, highlight local programs, celebrate progress achieved, and honor victims and the professionals who serve them.

Locally, Mayor Muriel Bowser has proclaimed April 2-8, 2017 as Crime Victims' Rights Week in the District of Columbia. The Office of Victim Services and Justice Grants will also host an exhibition of local crime victim service providers from April 3-7, 2017 in the lobby of One Judiciary Square, 441 4th Street, NW. Residents are encouraged to stop by and learn more about the great work community-based organizations are doing and available services. There are several other local events being organized by local organizations. Click here to view upcoming events.