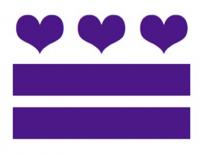 The Office of Victim Services and Justice Grants is a proud participant in the "Spread Love DC" campaign which engages young people, community members, and advocates in raising awareness about domestic violence throughout Domestic Violence Awareness Month (DVAM).
Residents are invited to attend events sponsored by local groups throughout the month and participate in Purple Thursday (sign up here) October 18 by wearing purple.

If you or a loved one is a victim/survivor of domestic violence and is seeking assistance or resources, please contact the DC Victim Hotline.