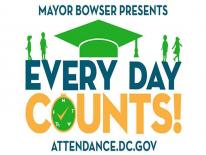 September is Attendance Awareness Month, a time for individuals and organizations to learn about attendance issues, absenteeism, and the effects attendance can have on academic performance and success.
Every Day Counts! is a citywide effort led by Mayor Bowser to ensure every student attends school every day. Going to school every day is critical to our students realizing their hopes and dreams. Every Day Counts! brings together the entire community to support students and families through a public awareness campaign, a Task Force coordinating public agencies and stakeholders, and investments in data-driven strategies to increase attendance. Check out www.attendance.dc.gov to find citywide attendance policies, resources and activities to address attendance challenges, and help spread the message that Every Day Counts!
Attendance is especially important given the challenges and disruption COVID-19 has caused. Here are some resources that have been specifically developed to assist parents and students during this unique time.

DCPS Reopen Strong
School Health and Safety Resources
Food Resources

The Office of Victim Services and Justice Grants (OVSJG) helps make every day count by coordinating truancy reduction programs, including Show Up, Stand Out (SUSO), a community based program that works with elementary and middle school families to identify barriers to attendance by providing support services that address the family needs to make sure their kids attend school regularly - a critical first step for a good education and success later in life.