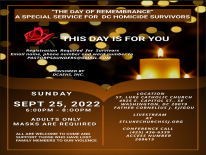 Last Date:
Location:
4925 E. Capitol St. SE Washington, DC 20019
Building:
St. Luke's Catholic Church
Details:
The Day of Remembrance: A Special Service for DC Homicide Survivors is a day to honor survivors of homicide in DC. All are welcome to come and support those who have lost family members to gun violence. Registration required for survivors (email name, phone number and ward number to [email protected]). This event is sponsored by DCAEHS, INC.
Adults only. Masks are required.
Livestream at StLukeChurchSSJ.org