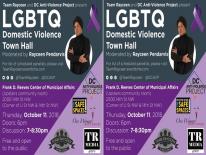 Last Date:
Building:
Franklin D. Reeves Municipal Center
Details:
October is Domestic Violence Awareness Month. Team Rayceen and the DC Anti-Violence Project are presenting a panel discussion about domestic violence in the LGBTQ community. Members of the community are invited to attend, listen, learn, and share their stories.
Attendees are invited to start arriving at 6pm. The discussion will start promptly at 7pm.
The program will be moderated by Rayceen Pendarvis
Scheduled panelists include
June Crenshaw
Jessica Raven
Sarah D. Lawson
Light refreshments will be provided.